Subaru Secret to Everlasting Love:
Go On a Vacation
With gas efficiency and comfort on your side for the long haul, your Subaru is begging to take you on a vacation you wont soon forget. Renew your love by allowing your Subaru to take you away from the rat race and into a R&R utopia.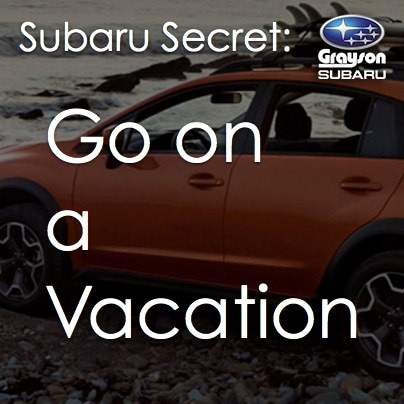 With room for everyone including the dog and entertainment features to keep little ones occupied, family vacations have never been easier. But if it's an escape you seek, take a mini-vacation with your Subaru. Instead of going straight home after work, drive to your favorite make out spot (we know you have one!) and soak in the natural beauty of your surroundings. A vacation of the mind and soul can be just as beneficial as a long distance, physical vacation.
If this secret doesn't help, rejuvenate your love with a new Subaru! Check out the
Subaru Forester
known for its efficiency and quick response to slippery conditions.
Did you find this Subaru Secret helpful?
Read all 10 secrets
to renew your love for your old Subaru.