Subaru Secret to Everlasting Love:
Make a Video
Nothing captures the essence of the moment like a video. The best way to remember the love you felt for your new Subaru is to record it in real-time. But we realize time travel hasn't been invented…yet! So our team came up with some ideas for you to consider while planning future videos.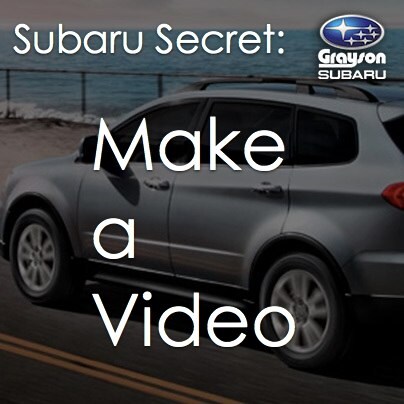 You could video:
Your dashboard reaching metric milestones like 100K or 200K miles.

Your family pulling into your vacation destination.

Your dog enjoying the ride.

Your next off-road excursion.

Your next drag race.

You packing and gearing up for a snow encounter.

You pulling into your favorite camping spot.

You strapping down your bike for your next triathlon.

Anything!
Now, more than ever, the technology and equipment are accessible for quality videos. If you like producing videos you could purchase a GoPro Camera for under $200. Or if you just want to shoot and publish a basic video, whip out your smart phone and start taping! Get creative - the possibilities are endless.
If this secret doesn't help, rejuvenate your love with a new Subaru! Check out the Subaru Outback known for its trademark traction, stability and control thanks to the Subaru Symmetrical AWD.
Did you find this Subaru Secret helpful? Read all 10 secrets to renew your love for your old Subaru.