Subaru Secret to Everlasting Love:
Schedule Time Together
Be purposeful with your time together. Naturally, your Subaru will get you from point A to point B, but scheduling time outside of the daily grind is a sure way to set your love a blaze. It renews your mind to actively think about how wonderful your Subaru is and triggers memories of forgotten road trips.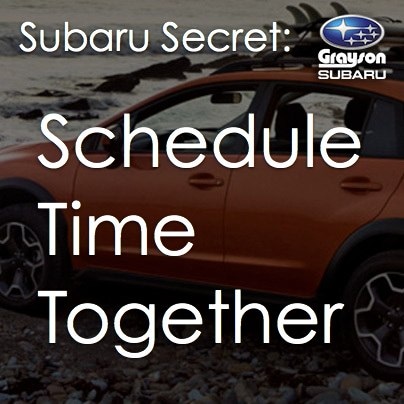 Be present with your Subaru. It's easy to get lost in daily distractions and forget about everything your Subaru is doing for you. Actively think about what your Subaru is doing for you.
Need more room for luggage; no problem.
Need a place to strap down your bike; this rack will work.
Hot summer day; how about some AC?
Slick surface on a steep incline; 4-wheel drive has you covered!
When you are present in the moment and thinking about every little convenience your Subaru so effortlessly offers you, it will be easy to remember why you love your Subaru.
If this secret doesn't help, rejuvenate your love with a new Subaru! Check out the
Subaru Legacy
known for its better response and control through the Subaru Boxer engine that puts the weight of the engine lower and in line with the vehicle.
Did you find this Subaru Secret helpful?
Read all 10 secrets
to renew your love for your old Subaru.