Subaru Secret to Everlasting Love:
Scout the Competition
You're better off than you may think with your old Subaru. After years together, it's easy to forget what made you fall in love. Maintain your love by checking out other Subarus. Heck, check out other makes and models. Inevitably, you'll recall what led you to buy your Subaru in the first place.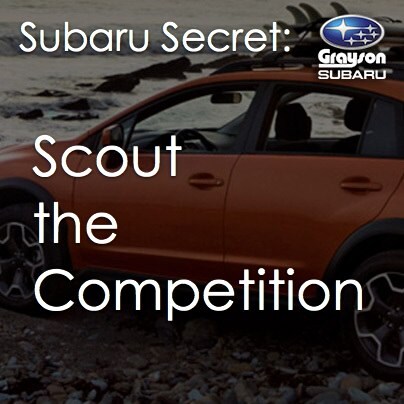 Like the old saying goes, "If you truly love someone, set them free and if they return you will know it's meant to be." Test-driving is okay. Your Subaru knows you'll come back after driving a few other cars. The competition can't hold a candle to what you already have waiting for you in your garage.
If this secret doesn't help, rejuvenate your love with a new Subaru! Check out the
Subaru Outback
known for its trademark traction, stability and control thanks to the Subaru Symmetrical AWD.
Did you find this Subaru Secret helpful?
Read all 10 secrets
to renew your love for your old Subaru.