JUNE IS BIG AT GRAYSON!!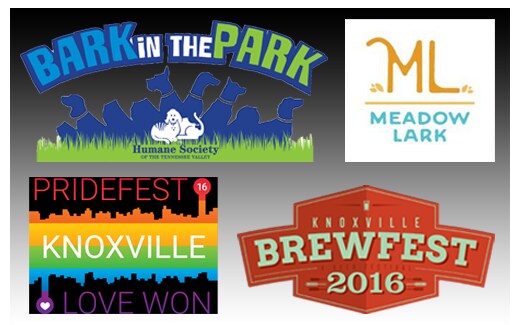 Grayson Subaru is delighted to have a busy month of event sponsorships in June yet again this year! We kicked off our summer of fun with Visit Knoxville's Bike, Boat, Brew and Bark at Volunteer Landing in downtown Knoxville on June 4th-5th.  In its first year BBBB re-educated us all on what we take for granted every day: how much fun downtown Knoxville and Volunteer Landing can be! With guided walking and bike tours to downtown and to the breweries, urban wilderness hikes, Dock Dogs and boats thrilling the crowd and Grayson showing off some beautiful subaru's, it was quite the event! The month is only beginning from there, as Grayson has an event for every weekend this month.  
This week is Humane Society of the Tennessee Valley's 22nd Annual Bark in the Park. Dogs are dear to Grayson and to Subaru and we're proud to be presenting sponsor for Bark for the second year! This year our tent will have a bar, a photo booth and of course , our ever popular misting fans! And if rains (the weather is supposed to be perfect), we are your best source of cover from the elements!  We have you covered!
Up next after Bark will be Brewfest on the 18th, which benefits Care Duchenne.  Grayson is proud to sponsor this event for the second year and by extension, help raise awareness and find a cure for Duchenne Muscular Dystrophy.  This event is always a lot of fun, with craft brewers from all over our region, converging on the Gay Street Viaduct in downtown Knoxville for food, drink, music and a grand old time!
We aren't done with June 18th though! Knoxville Pridefest is going on just over the hill from Brewfest, at World's Fair Park.  Grayson has sponsored Pridefest for years, but we have recently added sponsorship of the VIP tent to our package! Pridefest is the premier event for our local and regional LGBT community to meet and mingle with downtown Knoxville. It's a great day of music, friendship, vendors and fun!
We finish up June on the 25th with Knoxville's best-kept secret of music festivals, Meadow Lark Music fest at Ijams Nature Center.  This festival is a must for music fans of all ages and this year's line up is the best yet! It's not just music though, as some of Knoxville's best food trucks will also be in attendance and the setting doesn't get more beautiful…right there on the lawn at Ijams Nature Center!
That's a lot right?  Well, that's not all! We're also on the main stage at Market Square Farmer's Market on the 25th.  Grayson is Farmer's Market's sole presenting sponsor for the second year. We are so proud to be a part of something so dear to downtown Knoxville and the surrounding areas. Farmer's Market is all about local farms and sustainability. It's also about education and Grayson supports those endeavors. Its also about yummy goodness!
Long story short, we can't wait to see you all this June at all of these fine events!  We are blessed to support what our customers care most about and look forward to seeing you out enjoying these events!