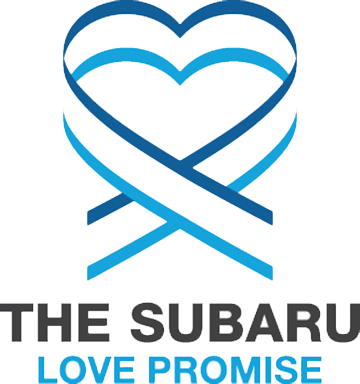 What is the Subaru Love Promise?
Subaru and our retailers believe in making the world a better place and the Subaru Love Promise is our vision of respecting all people. This is our commitment to show love and respect to our customers and to work to make a positive impact in the world.
How is Grayson Subaru dedicated locally to the Love Promise?
Our Love Promise can be seen in various partnerships with local charities and non-profits. We're grateful for the opportunity, not only to be a part of our community, but to give back as well.
Young Williams Animal Center
Knoxville Botanical Gardens
Love Promise Stories from Grayson Subaru
Subaru and Grayson Subaru believe in making a positive impact on the communities in which we live and work. We uphold that belief through our Love Promise Community Commitment. Every month, we select inspiring stories from customers and partners from around our area who strive to support our collective commitment and feature them here
Six Karns teachers receive $500 grants - Nancy A
Nancy Anderson, Shopper News Principal Brad Corum put smiles on the faces of six teachers at Karns High School with $500 grants to each, sponsored by Grayson Subaru. "It all started in 2019 with our Principal for a Day Program when Grayson Auto Group Marketing Coordinator Dan Moyers came out for the day. He said he enjoyed his experience and wanted to partner with the school through the Subaru Loves Learning Partnership," Corum said. "I couldn't be more pleased that he thought of us. It's always a good thing to partner with the community and it helps us out tremendously. "Subaru Loves Learning is a partnership with AdoptAClassroom.org. Subaru helps supply classrooms across the country with the supplies necessary to ensure success for students nationwide. Corum put together an administrative team to choose six teachers. They looked at teachers who had been considered for teacher of the year, teachers in health science and STEM, and those whose classrooms were in particular need. Teachers BJ Arvin, Bethany Burnette, Misty Crowley, Jacob Neblett, Bobby O'Dell and Meredith Rogers were presented with certificates at the first faculty meeting of the academic year amid cheers from their peers. All the teachers said they were thrilled to accept the grant and plan to put it to good use in the classroom. Neblett, a Culinary Arts teacher, was especially pleased to receive the grant. He said his program is in constant need of resources. "We go through food and equipment like nobody's business. It's a constant struggle to keep the program supplied. I'm very thankful."
---
Grayson Sends Help When It's Most Needed! - Amy M
Young-Williams Animal Center is the municipal shelter for the City of Knoxville and Knox County. That means that this organization services all the lost, unwanted, abandoned and neglected animals in these communities, regardless of breed, health, age or size. This translates to approximately 9,000 animals each year that come in, are vet-checked, microchipped, vaccinated and spayed or neutered and then united with new loving families. This past July, Young-Williams witnessed the highest intake numbers over one month in the last five years. In just those thirty-one days, 1,140 stray and surrendered animals entered into the shelter's care. Our shelter was bursting at the seams, and we needed help. Enter our friends at Grayson Subaru, who help make our vision of a home for every pet a reality. Grayson Subaru sponsored a five-day adoption event, the "Meow and Bow-wow Luau!" This event featured a fun summer theme and, because of Grayson Subaru's support, Young-Williams was able to offer discounted adoption fees, encouraging adopters that now was perfect time to find that new family member they had been considering. Thanks to Grayson Subaru, 178 dogs, cats, and even a rooster and a dove found new, loving homes in just five days. This was more than double the number of adoptions in the same time frame of the previous two years and accounted for nearly 25% of the July adoptions! This event was crucial in freeing up space that then allowed the shelter's continued ability to serve our community's homeless pets in the time of our greatest need. Grayson Subaru's partnership helps make our vision of A Home for Every Pet possible.
---
Grayson Helps Dogwood Arts Test-Drive New Venue! - Shannon H
Our friends at Grayson Subaru partnered with Dogwood Arts in 2021 to help make our return to in-person events a huge success! Our signature event, the Dogwood Arts Festival, moved from Market Square to the beautifully redesigned Performance Lawn at World's Fair Park––where Grayson Subaru was front and center with two beautiful vehicles on display for attendees to enjoy. It has been a long and interesting year for most of us and we have certainly encountered adversity as an organization alongside the hardships faced by our community, our nation, and our world. But facing these challenges together with courage and creativity has also brought us wonderful things to celebrate. Throughout the pandemic, our continued partnership with Grayson Subaru allowed us to find new ways to continue our mission to promote and celebrate the art, culture and natural beauty of East TN! They helped us promote driving the 85 miles of blooming Dogwood Trails in the spring, and provided materials for our Art Kits for Kids initiative, which just celebrated distributing 10,000 Art Kits to kids across East Tennessee in 2021. Thank you, Grayson Subaru, for your continued support of Dogwood Arts! Shannon Herron Marketing and Creative
---
Grayson Subaru and Knox Botanical Gardens Partner! - Daniel M
Grayson loves Subaru of America, Inc. and our annual Share the Love event! Grayson's local non-profit of choice for 2021 is Knoxville Botanical Garden & Arboretum! Together, KBGA and Grayson will refurbish a natural amphitheater on their grounds, to be used for music events, community events, the arts, yoga classes...you name it! The big plus is the recurring revenue that the venue will produce for the Gardens. We couldn't be happier for KBGA and KTown! Knoxville's newest music venue is on its way! The Grayson Subaru Grove!
---
Young Williams and Grayson Team Up for Success! - Dan M
Our friends at Grayson Subaru are working to help make our vision of a home for every pet a reality. By hosting adoption events and sponsoring pets and events, they make an impact for pets like Edith. It was a hot late-summer day when a good Samaritan found an overweight beagle struggling to walk and took her to UT vet hospital. After learning she didn't have a microchip and she was overall in good health, she was transferred to Young-Williams Animal Center. At intake, this underdog weighed in at 57 lbs, more than double what a healthy beagle should be, and was given the name Edith. The staff at Young-Williams Animal Center developed a weight loss plan and sent her to a caring foster home. In the shelter, Edith could barely walk on her own, and she would collapse on the floor every few steps. She had to be carried outside for bathroom breaks and there was even an incident when she got stuck on her back while napping, but with the help of two friendly staff members she got back on her feet. A long-time foster fell in love and knew she could help change Edith's life. "My animals at home are used to foster pets and have raised foster kittens for years. However, my resident beagle, Sam, lost his lifelong fur-sister back in April (she was 17 years old), and I wasn't sure how he would react to having a new dog in the house. I scheduled a Meet & Greet at YWAC and the two hit it off immediately! It was all wagging tails and sweet kisses - turns out Sam was just waiting for another old lady dog to love!" Edith settled in quickly and Sam was right there by her side to show her around the house and yard. Edith is highly food motivated and was very enthusiastic about her food. She loved having green beans, carrots, peas, and other veggies with her diet kibble, and she's got a sweet tooth for apples and blueberries as treats. In just two weeks in foster, she lost 2.5 pounds (4% of her total body weight)! On track for meeting her weight loss goals, Edith was made available for adoption. "When I received the first adoption application for Edith, I felt my stomach drop at the thought of giving her up," recalls her foster mom. "I held back tears as the interested couple met Edith. While they decided that they were not a perfect fit for Edith, that interaction made it obvious that Edith had already found her forever family with me (and Sam). "Edith's foster finalized the adoption and has continued her weight loss journey. Since August, Edith has been doing water exercises. For her New Year's resolution, they are exploring the underwater treadmill at the Animal Wellness and Rehabilitation Center. As of her last vet appointment, Edith has lost almost 15 pounds! "I feel so grateful to have her and to have the opportunity to help her become happy and healthy! And Sam is so happy to have a sweet old lady to love!"
---
It takes a team - Lynnda M
This is a common sight these days as our Subaru "Outback" who we fondly call Fillus is out making a needed pick-up at Second Harvest of East Tennessee. Fillus is a gift from Subaru of America Inc. through their Subaru Loves to Help" program that has been a lifeline for so many. It is amazing how much capacity this sleek profiled vehicle can hold. Some of the terrains can be tough in these parts of the country but we are yet to find a challenge she can't handle. Subaru of America and Second Harvest of East TN has kept us on the road, delivering needed food to our shut-in seniors. Covid-19 has posed challenges but nothing we can't handle. Thanks Subaru and thank you Second Harvest.
---
Farragut High School Accepts Gift from Grayson - Dan M
Dr. John Bartlett, principal of Farragut High School here in Knoxville, knew just like all other principals knew, that social distancing would be hard inside a very large high school. To make matters worse, the school hasn't exactly grown with the growth of its student body, so lunch can be cramped in the school's commons area even in perfect conditions on a normal day. COVID has offered us all challenges and FHS was no different. An inventive request went out from Dr. Bartlett's office for several outdoor picnic tables, so their kids would have extra options at lunchtime, before school and after school. The same options would be available for staff as well. Grayson met Dr. Bartlett's request with 3 new picnic tables, two of which we purchased by Grayson Subaru. Dr. Bartlett and staff were very thankful for the tables and it looks like Farragut High will receive more than enough tables to achieve their goal of alternative seating!
---
Wags to Riches - Missy M
Small Breed Rescue of East Tennessee (SBRET) is a 501(c)(3) non profit organization with no paid positions and is completely ran by volunteers. SBRET has no central shelter facility and all dogs live in the homes of our wonderful volunteers until they are ready for their forever home. SBRET runs entirely on donations. Developing a relationship with Grayson Auto Group has allowed us to continue the work that we are so very passionate about. Saving lives. What does a sponsorship like Grayson Auto Group mean to us? First of all, it shows us that they care! Grayson Auto Group is VERY well known in the community to help so many organizations in the Knoxville area. We feel so fortunate to call Grayson a sponsor AND friend of SBRET! Without the funds that Grayson has provided to us, we could not continue our mission. Grayson has also provided SBRET with one of the biggest Custom Sail Flags that can be found in Knoxville! We use this flag to let people know where we are having our weekly adoption events, and trust me. You can't miss it. All because of Grayson! We look so forward to many more fun events with Grayson Auto Group and we only hope that you know how much of a positive impact you have had on our organization. Wags to Riches, thanks to Grayson and your generosity!
---
Knoxville Habitat for Humanity - Lacey M
Knoxville Habitat for Humanity is a nonprofit housing ministry that partners with families in Knox County to help them build a place they can call home. Habitat homeowners help build their own homes alongside volunteers and pay an affordable mortgage. With the generosity of our partners, like Grayson Subaru, Habitat homeowners achieve the strength, stability and independence they need to build a better life for themselves and their families. With the lead gift from Grayson Subaru, which launched fundraising efforts of breweries and local craft beer taprooms, Knoxville Habitat launched the House that Beer. With a generous donation from Grayson Subaru and the fundraising efforts of breweries and local craft beer taprooms, the money was raised to build a home with a local Knoxville family in need of affordable housing. Raven, an LPN (licensed practical nurse) at a local orthopedic clinic, was the family partner for the House that Beer Built. She worked through the Knoxville Habitat program while raising four children on her own. She learned to budget her finances before swinging a hammer on the build site. With the help and support of Grayson Subaru, Raven's children now have their very own yard where they can safely play. They have their own rooms where they can grow and learn. Grayson Subaru has continued to support Knoxville Habitat through multiple community events, such as Cans for a Cause, Cook the Gators Shrimp Boil and as a Women Build sponsor. Thank you, Grayson Subaru, for helping Raven and other families like hers help themselves and for supporting us as we create a community where everyone has a decent place to live.
---
Standing Against Child Abuse in Blount County - Rob S
Grayson Subaru has been a big part of the Tennessee Winter Beer Fest (TWBF) for many years now. The TWBF is a non-profit group that raises money each year for the New Hope Blount County Children's Advocacy Center. New Hope is dedicated to serving children who are victims of sexual and physical abuse through prevention, education, and intervention. In the last 9 years we've raised $125K for New Hope and we've been thrilled to have Grayson Subaru be a part of the event - both as a sponsor and as they provide drinking water for the event which helps encourage hydration and safety during the event. The money raised helps New Hope support their programs to help victims through both advocacy and therapy as well as prevention programs throughout the county. We've been thrilled to partner with Grayson Subaru and look forward to next year. Thank you Grayson Subaru!
---